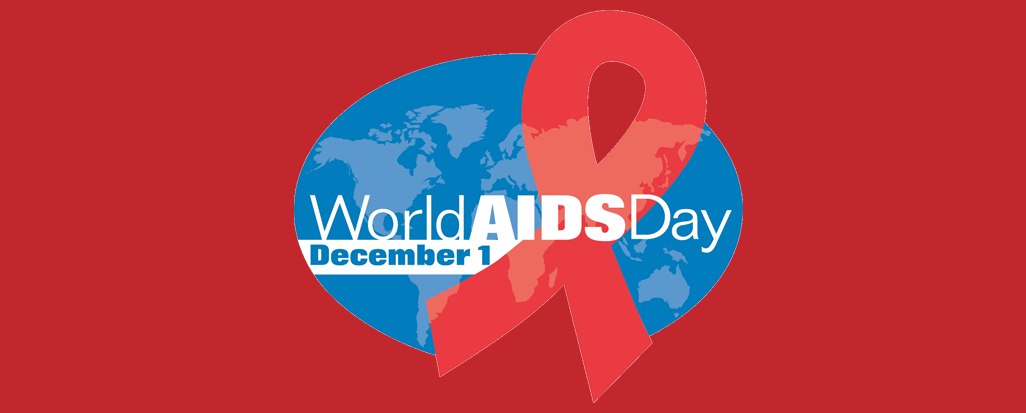 November 29th
Shattering Barriers: Unveiling Truths and Overcoming Stigma in the HIV Narrative webinar session
12/1/2023
12PM – 1:15PM
VIRTUAL

In preparation for World Aids Day which will occur nationally on December 1, 2023, there will be a virtual event by the College of Pharmacy at Xavier University of Louisiana. The event is free and open to the public.
Link to virtual webinar here. 
December 1st
DCHC World AIDS Day Pop-Up
12/1/2023
9AM – 1PM
1629 Westbank Expressway – Suite A, Harvey, LA
Contact: eric.stovall3@dcsno.org
Come join DePaul Community Health Centers in recognizing World AIDS Day with a pop-up event at the Harvey clinic. Stop by, say hello to their staff and pick up free educational material and giveaways! 
World AIDS Day Testing Event
12/1/2023
10AM to 3PM
2714 Canal St. Suite 304, New Orleans, LA 70119
Brotherhood Inc. will be commemorating World AIDS Day (December 1st) with incentivized testing and food.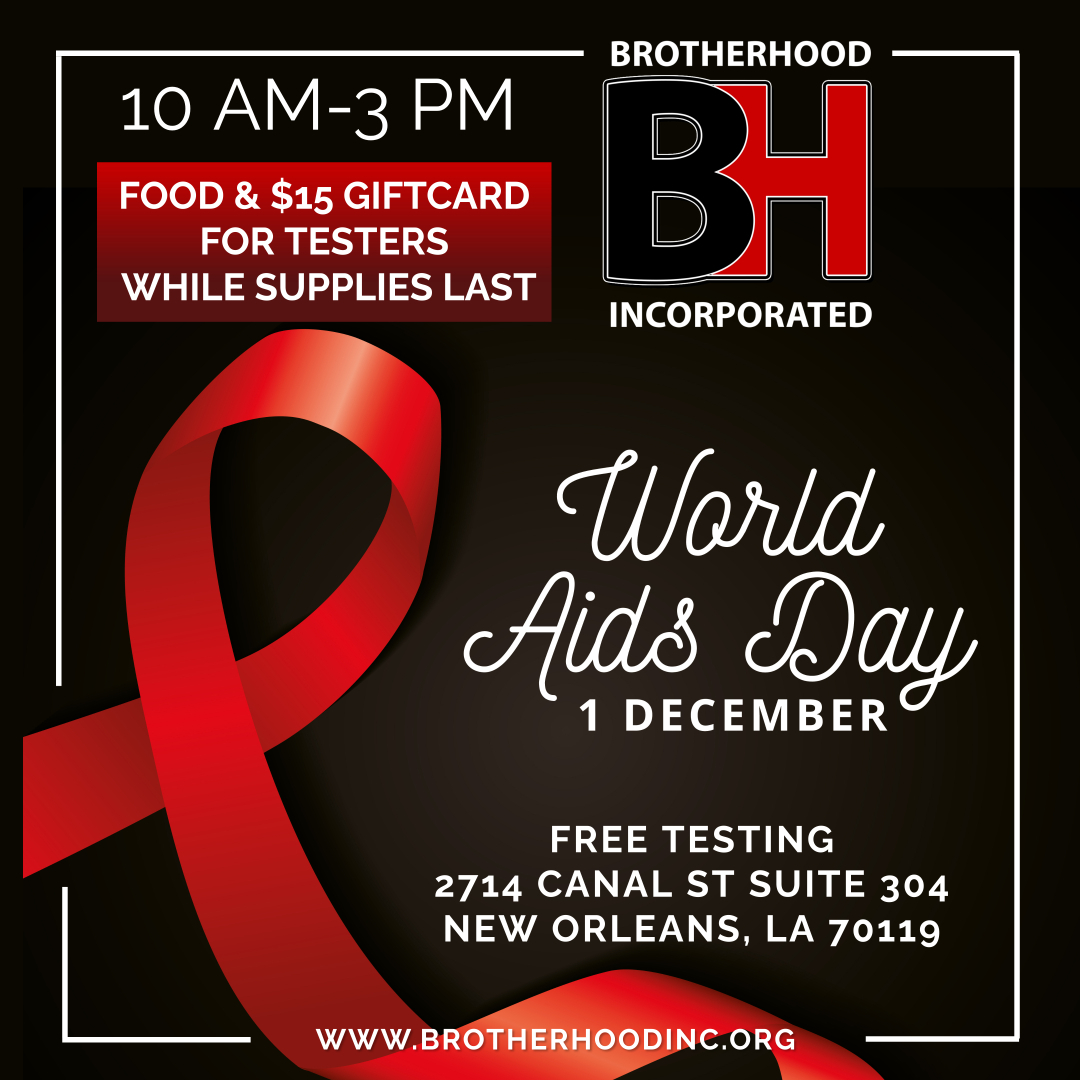 Let's Brunch About It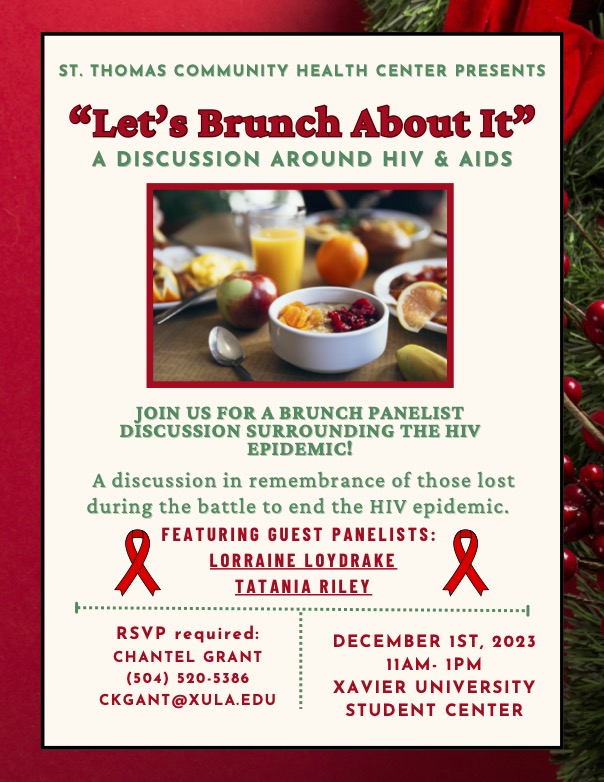 12/1/2023
11AM – 1PM
Xavier University Student Center
Join the St. Thomas Community Health Center for a brunch with a discussion surrounding HIV and AIDS.
Please RSVP: Chantel Grant, (504)520-5386, ckgant@xula.edu
2023 Wreath Laying Ceremony
12/1/2023
3PM – 1PM
700 Elysian Fields Ave. New Orleans, 70117
Join in for the annual wreath laying ceremony to recognize those living with HIV and pay respect to those who have passed as a result of AIDS-related complications, including a musical tribute by Village Brass Band. Free registration here. 
LOVE RALLY NOLA
12/1/2023
2101 Orleans Ave., New Orleans, 70116
Love Rally NOLA is an event powered by the New York Transgender Advocacy Group and sponsored by the Mobilizing Millennials Organization. It is more than just an event; it's a celebration of unity and the diversity that makes our communities beautiful. In a time when hate- fueled rhetoric is on the rise, and anti-trans legislation threatens the rights of LGBTQIA+ individuals, our mission is to stand strong and resilient, promoting love, inclusivity, and affirmation. 
Event link here.
World AIDS Day Vigil
12/1/2023
6:30PM – 7:30PM
Gather around the neutral ground at Elysian Fields and North Rampart
6:45PM – Candlelight procession to Washington Square
7 – 7:30PM – Candlelight vigil with guest speakers
Help honor this World AIDS Day as our community comes together to honor everyone lost to HIV , support those still fighting and rededicate ourselves to the work still left ahead. All are welcome to attend. 
This event is brought to the community by: The CrescentCity Leathermen, the LGBT Archives Project of Louisiana, the Big Easy Sisters of Perpetual Indulgence, Onyx, the Lords of Leather, the Renegade Bears of Louisiana & NOLA Pups and Handlers.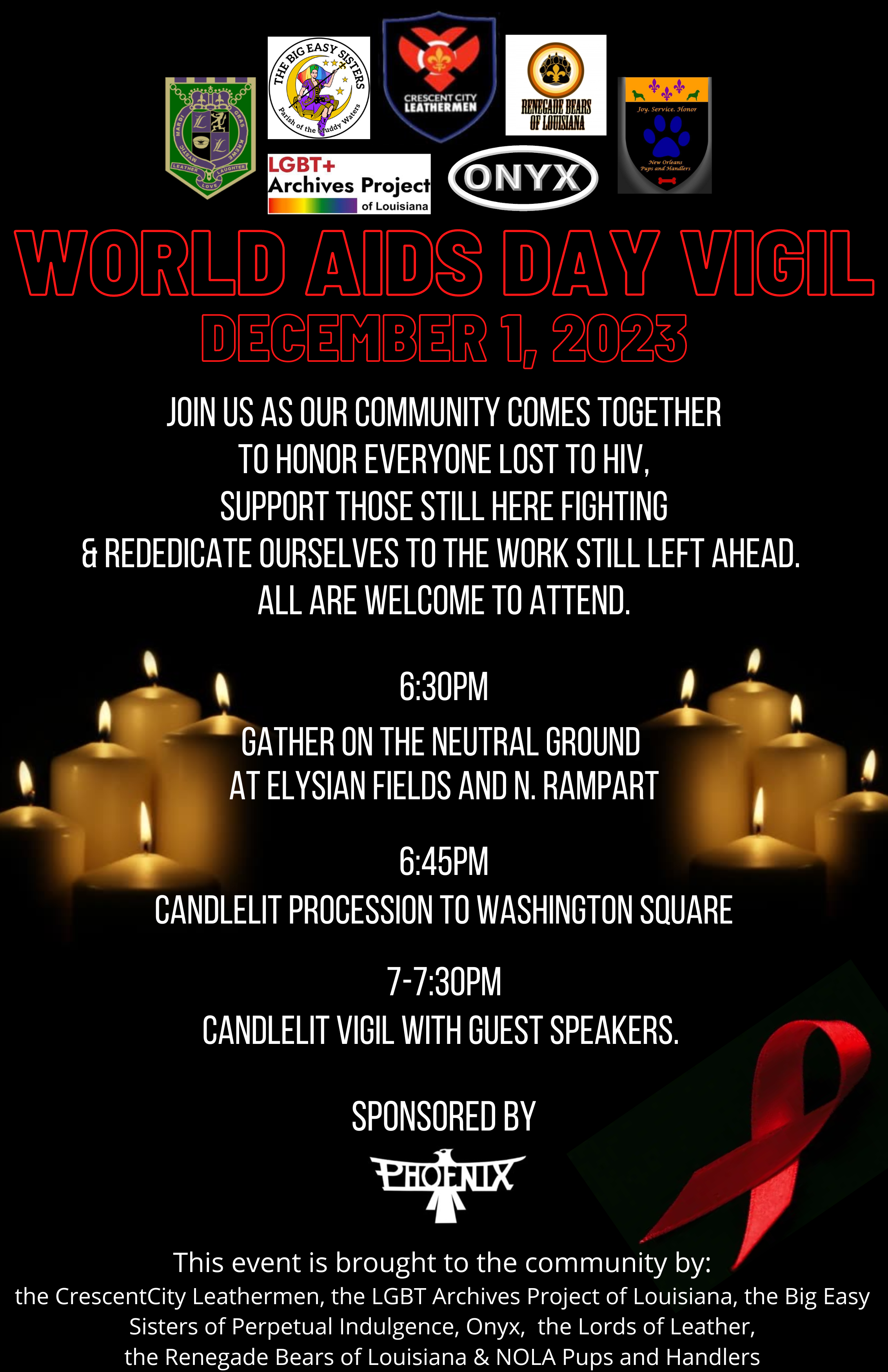 St. John #5/ Camp Ace HIV Prevention Mobsters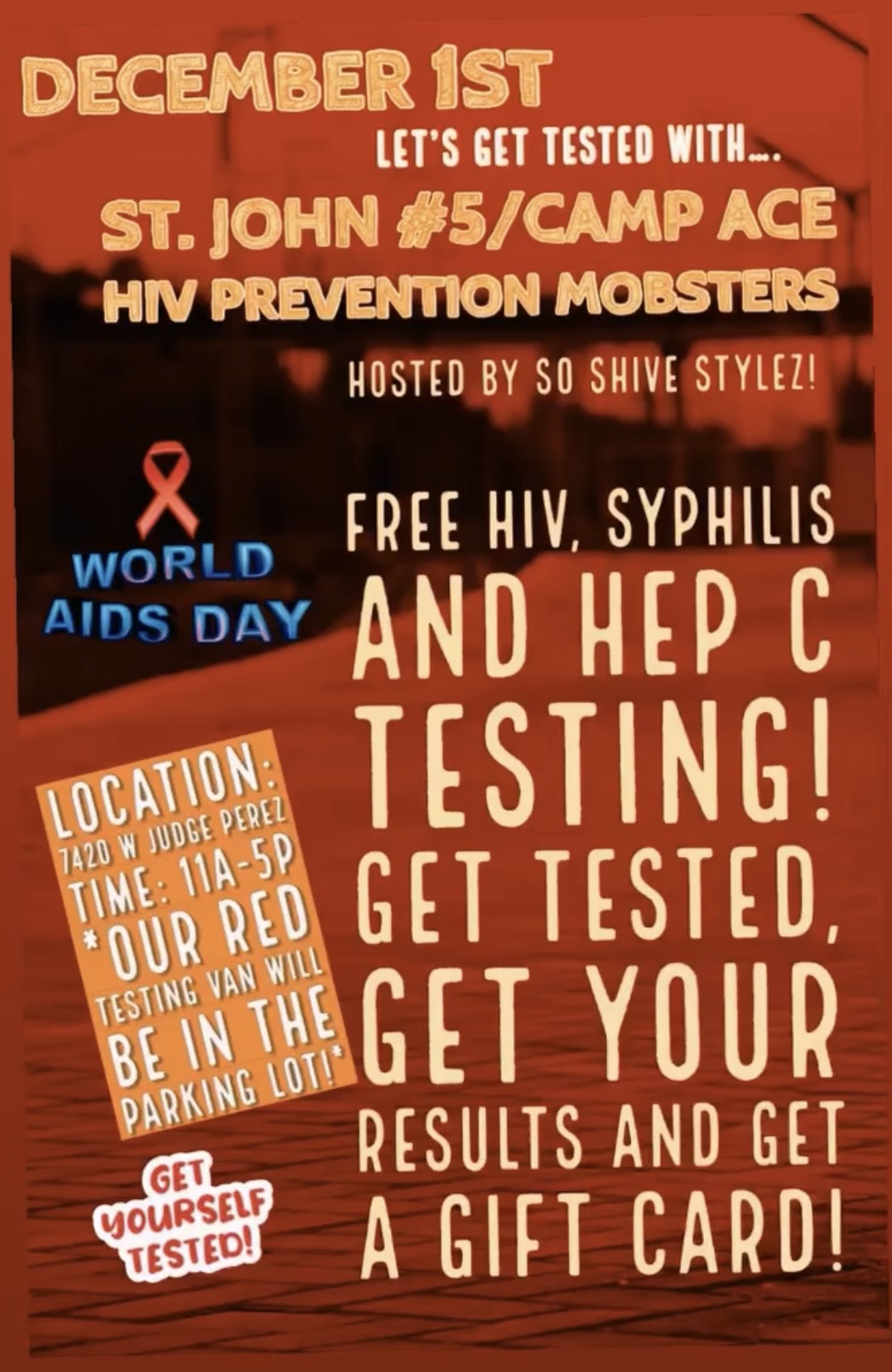 12/1/2023
11AM – 5PM
7420 W Judge Perez Dr., Arabi, 70032

Stop in on World AIDS Day – We'll have FREE HIV, syphilis, STD testing, and gift cards for those that get tested!
Contact: Tamachia Davenport (504)610-8471
The Difference Is US
12/1/2023
12PM – 1:30PM1520 Thomas H. Delpit Dr., Baton Rouge, 70802
Join Baton Rouge Black Alcoholism Council (BRBAC) Metro Health for The Difference is Us, a FREE luncheon event that focuses on the HIV/AIDS epidemic and the tools and scientific information available to fight against the disease.  This event educates participants on current statistics, prevention methods, treatment methods and supportive services available for the community.  This information is intermingled with free food, live entertainment, powerful testimonials, and wonderful give-aways.
Contact: (225)-338-9333 or slolismetro1@gmail.com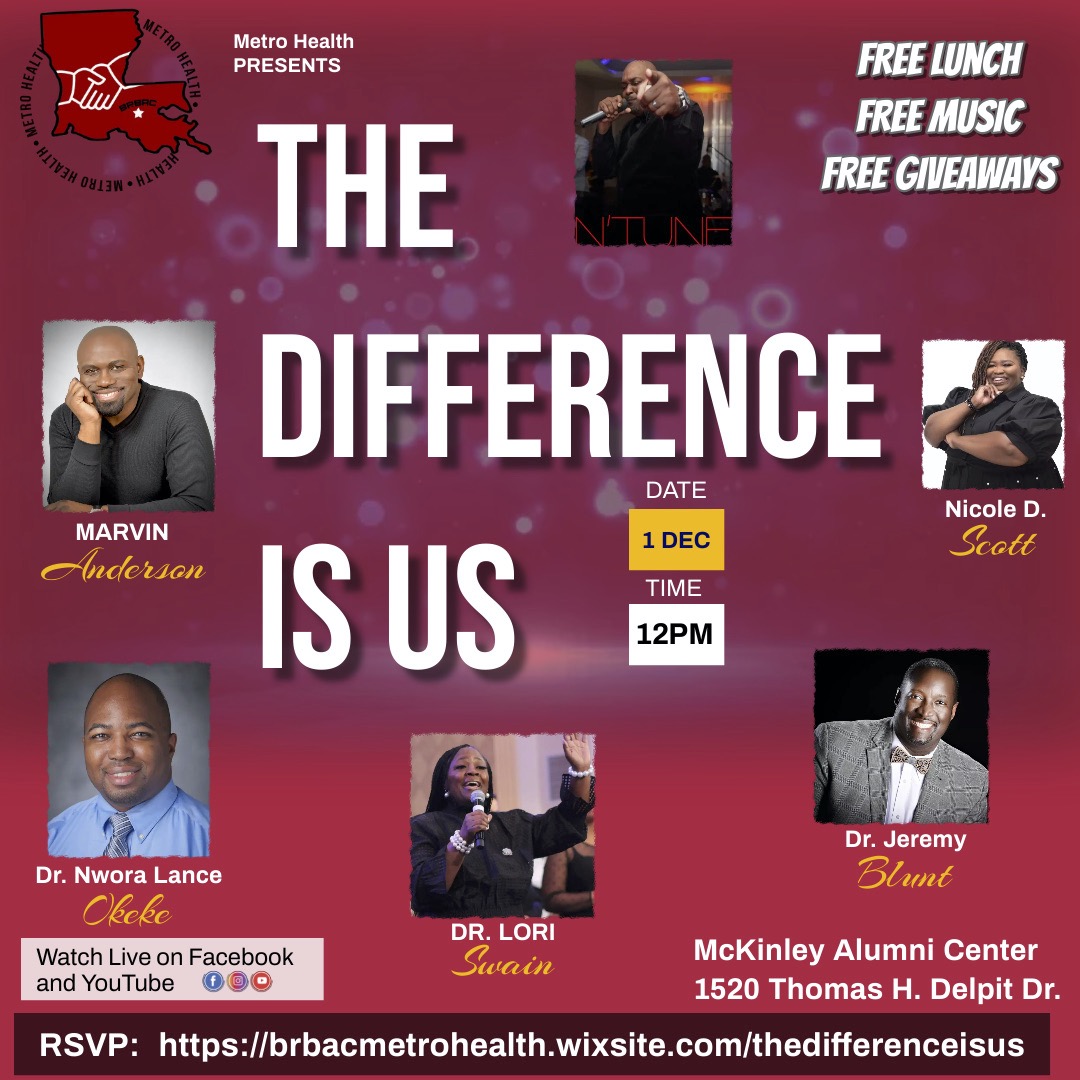 World AIDS Day 35: Remember and Commit
12/1/2023
10AM – 12PM / 12PM – World AIDS Day Ceremony
Leonard J. Chabert Medical Center (Main lobby)
1978 Industrial Blvd. Houma, LA 70363
Oschner's Leonard J. Chabert Medical center will host community agency booths (information & resources available), photo/social media opportunities, and red ribbon distribution.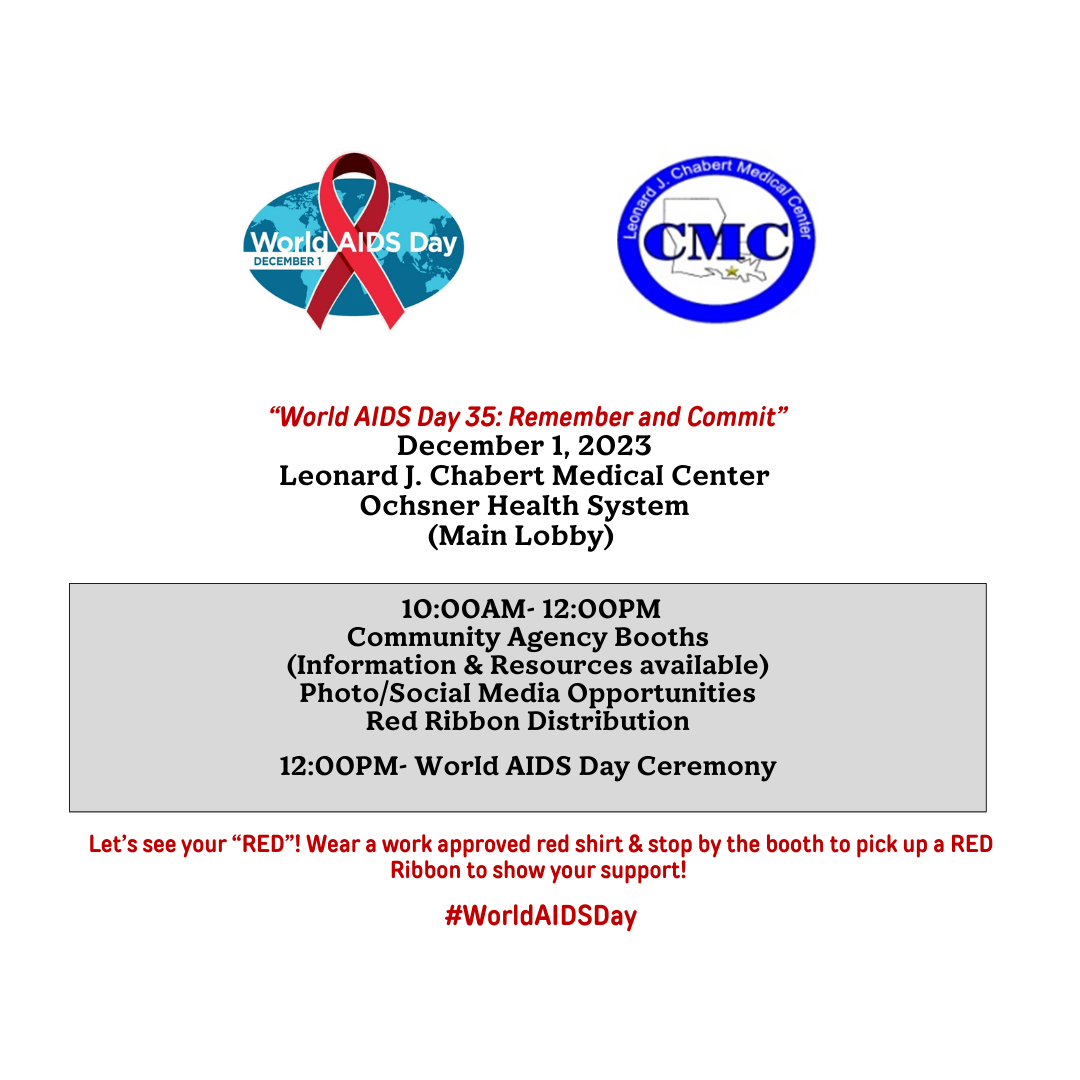 World AIDS Day 35: Remember and Commit
12/1/2023
11AM – 2PM / 12PM
809 Martin Luther King Jr Drive, Lafayette, LA 70501
Join us for a luncheon to remember those we have lost, celebrate life, and enjoy a little Holiday Cheer! Open to Acadiana Cares staff and clients.
Contact: jenny@wwav-no.org

Lunch provided
Music
Tree trimming
Ugly Sweater contest and prizes
Giveaway goodies
Hosted by: Women With A Vision, Get Loud Louisiana, Acadiana Cares
World AIDS Day Events
12/1/2023
8AM – 2PM
Lafayette Parish Health Unit, 220 W. Willow St., Lafayette, LA 70501
(337)262-5616 ext. 0 (for any inquiries) 
The Lafayette Public Health Unit will have rapid STI testing from 10AM – 2PM. Please visit one of the 3 locations for additional services from 8AM – 2PM.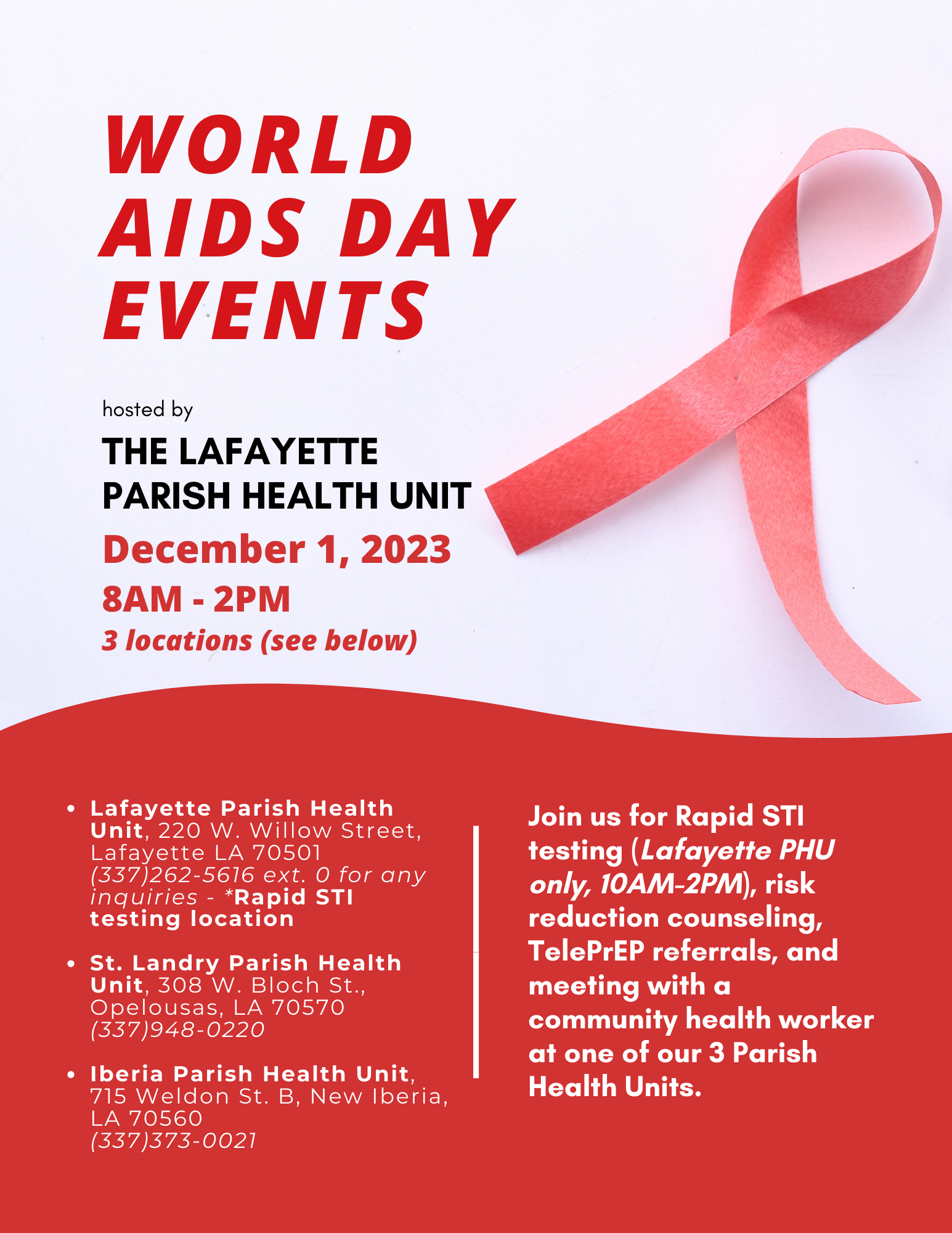 World AIDS Day 35: Remember and Commit Candlelight Vigil
12/1/2023
5PM – 6PM
The Philadelphia Center, 2020 Centenary Blvd., Shreveport, LA 71104
Join The Philadelphia Center to honor WAD for their World AIDS Day 35 Remember and Commit Candlelight vigil. All ages welcome. Reception to follow.
Contact: (318) 222-6633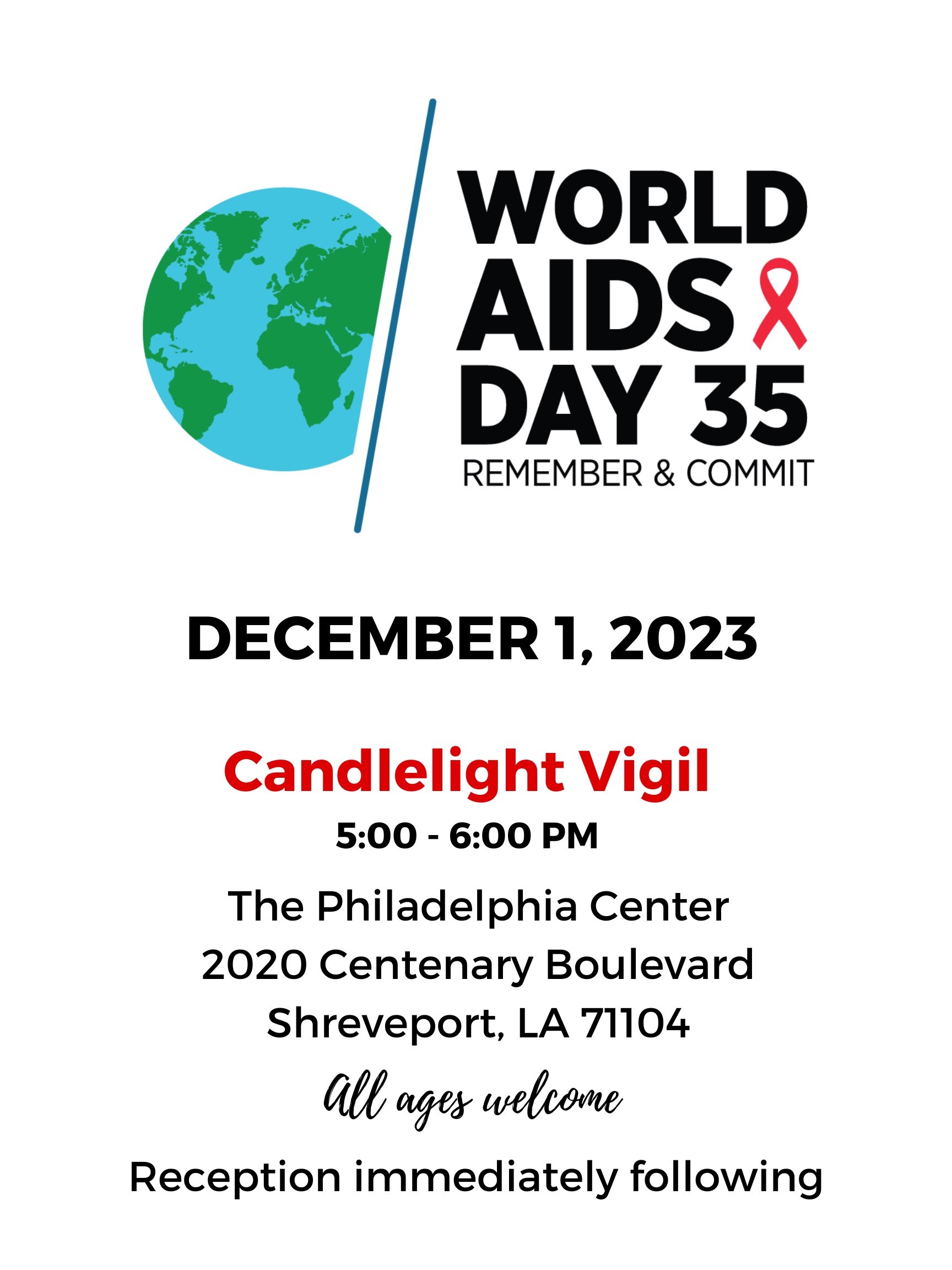 GO CARE Community Health Center's Candlelight Labyrinth
12/1/2023
6PM – 7PM
1801 N 7th St, West Monroe, LA 71291
Contact: Rusty Chambless: (318)582-3586 or (318) 325-1092
Currently, 1.2 million people in the U.S. and 39 million people worldwide are living with HIV, according to Go Care. Approximately 36 million people have died of AIDS-related illnesses, making it one of the deadliest pandemics in history.
The Go Care Community Health Center will create a candlelight labyrinth, with each candle symbolizing the 938 people in the region who have died from HIV since the beginning of the epidemic. There will be a space for visitors to light a candle in memory of a loved one in the center of the labyrinth.
December 2nd
HIV and AIDS Empowerment Brunch
12/2/23
11AM – 2PM
Algiers Auditorium, 2485 Guadalcanal St. New Orleans, LA 70114
Hosted by DO IT FOR ME to educate the community on HIV facts, statistics, prevention, treatment, and local initiatives around HIV prevention. Free HIV testing will be provided. Live band by K Lamp Entertainment; Pastor Tara Alexander as the musical guest. DO IT FOR ME will also highlight the community work it has done through its CHOICES initiative.
Contact: (504) 274-8998 or glenis.scott@crescentcare.org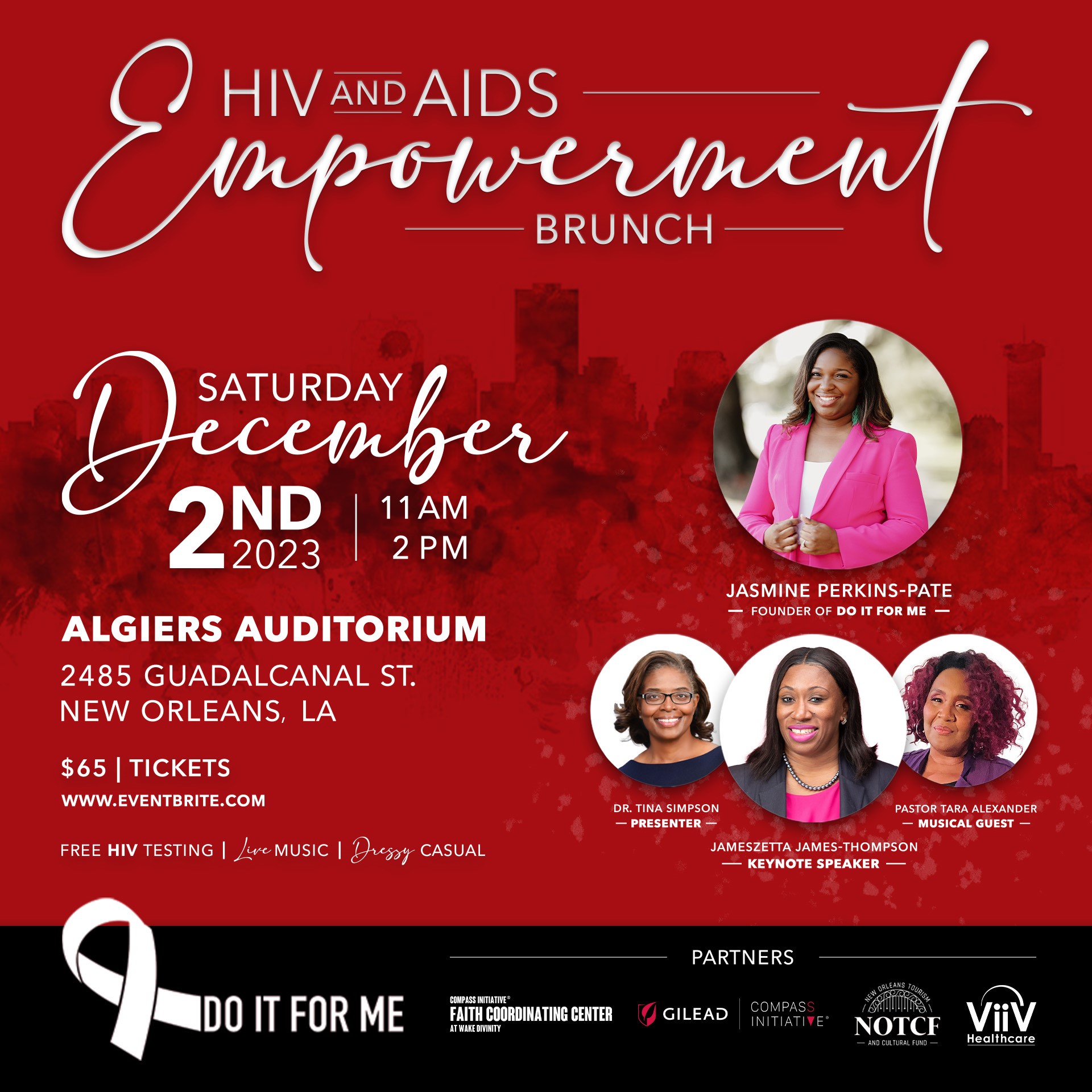 World AIDS Day Red Gala
12/2/23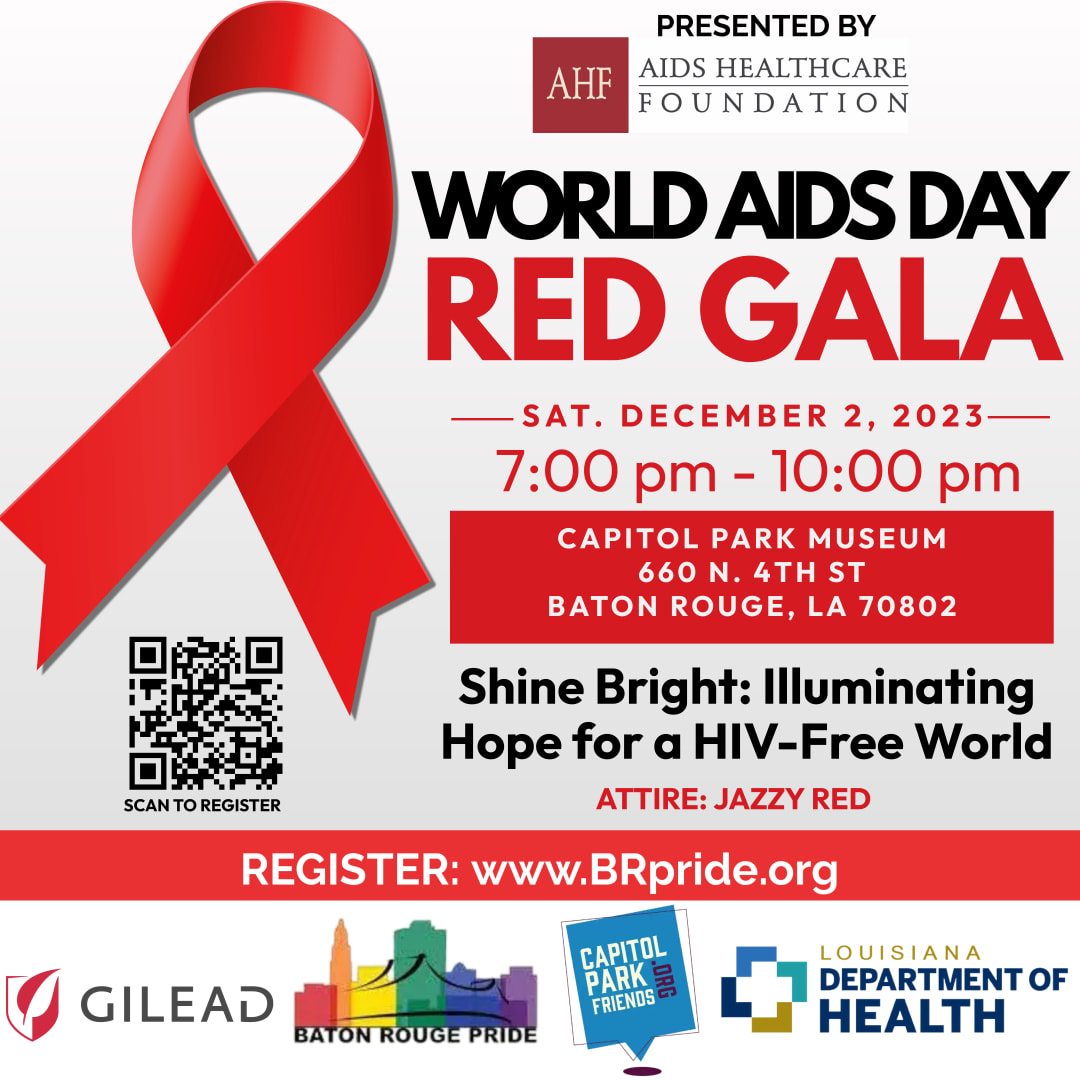 7PM – 10PM
Capitol Park Museum, 660 N. 4th St.Baton Rouge, LA 70802
The "World AIDS Day Red Gala" is a pivotal moment in the mission to combat HIV/AIDS. The goal is to create an unforgettable evening that not only commemorates the lives affected by this global pandemic but also celebrates the remarkable progress we've made.
​This year, the theme, "Shine Bright: Illuminating Hope for a HIV-Free World," symbolizes the commitment to bring light and hope to the darkest corners of this crisis.
FREE registration here. 
December 5th
Kourtyard Karaoke
12/5/23
3PM til'
To celebrate HIV Awareness Month, Concerned Citizens For a Better Algiers will host a "Kourtyard Karaoke" Talent Event. It's an evening of great food, prizes, and fun!!! There will be winners selected for 1st, 2nd, and 3rd.
To RSVP, please email:  adminassistant@ccfbano.org
December 7th
Women and HIV, Minster's Breakfast
9:30AM
1313 Esplanade Ave. New Orleans 70117

Join the faith-based community in highlighting the challenges and successes of Women and HIV.

To RSVP: email or call Doreen Keeler-Tollerson 504.821.2601 Ext. 1006 doreen.tollerson@crescentcare.org
December 8th
Drive-in Cinema, Stories from the Quilt
12/8/2023
6PM – 7PM
1936 Magazine St. (Parking lot), New Orleans, LA 70130
Drive over for a drive-in movie and free snacks with St. Thomas Community Health Center!
Contact: Kel Williams, (504)407-8291, kwilliams@stthomaschc.org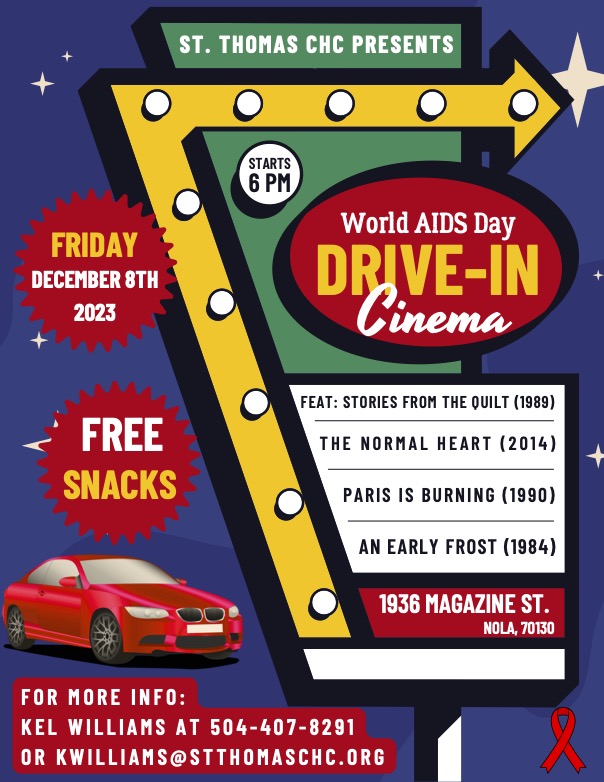 December 9th
Red Fun Run
12/9/2023
9AM til'
Forsythe Park – 2300 Sycamore St, Monroe, LA 71201
Contact: iai@monroealumnae1955.org
The 5k Fun Run/Walk is for your whole family while bringing awareness to World AIDS Day. World AIDS Day is an opportunity for people worldwide to unite in the fight against HIV, to show support for people living with HIV, and to commemorate those who have died from an AIDS-related illness.
All proceeds will be used locally and nationally to fight against AIDS. The cost for runners/walkers is $25 by November 24th at 11:59 PM and $30 on November 25th-day of race. All registrations will be done through RunSignUp. The fee includes a t-shirt.
5K Fun Walk/Run Schedule (Tentative)
7:00-7:30 Vendor Setup 7:30-8:30 Registration/Vendors
8:30-8:45 Entertainment/Words from Go Care
8:45-9:00 Walk/Run Warm Up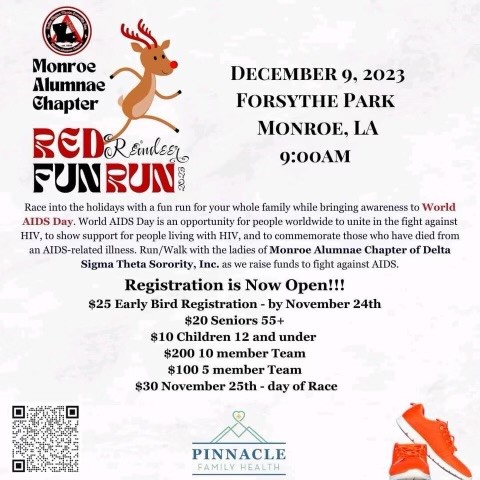 9:00-10:00 5K Run/Walk
10:30-10:45 Awards Ceremony
10:45-12:00 Mingle and Jingle/Vendors